Tea: History, Terroirs, Varieties: Book Review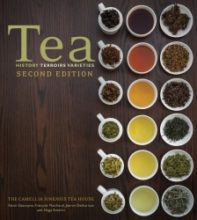 Tea: History, Terroirs, Varieties (Second Edition) by Kevin Gascoyne, Francois Marchand, and Jasmin Desharnais is great book on tea because it thoroughly provides an overview of tea's history, different varieties, growing and harvesting process, fascinating ceremonies, local methods of preparation, tasting notes, and infusion accessories. A lot is covered in this book on all of the topics a beginner, or even a more experienced tea drinker, would be interested in.
But the really special part of this book is the massive collection of photos. Nearly every page contains one or more images from around the world and really brings the topic of diversity and complexity of the tea industry to life. If you're new to tea, you'll be amazed by how many different colors of tea there are. The book also explores the world's top tea-growing countries to explain the common characteristics of that nation's tea. Examples of countries covered in the book are Japan, Taiwan, China, Sri Lanka, India, Vietnam, and Nepal, and the region of East Africa.
After reading this book, you'll learn how climate and soil influence's a tea's characteristics. Terroirs is the lingo used to refer to these factors. You'll also learn about the different tea families, grades, cultivars, and varieties. The section on tea's history includes a timeline for easy reference. This book is a well-rounded, thorough book on tea that even includes interviews with industry leaders and 15 gourmet recipes that use tea as an ingredient.
Tea: History, Terroirs, Varieties (Second Edition) is 272 pages long and currently available on Amazon only in Paperback format.
Related 27Press Book:
19 Lessons On Tea