The Story of Sushi (Corson): Book Review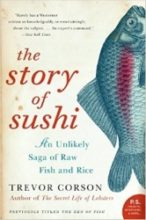 The Story of Sushi: An Unlikely Saga of Raw Fish and Rice by Trevor Corson (previously titled, The Zen of Fish: The Story of Sushi, from Samurai to Supermarket), intertwines history with entertainment.
Corson focuses on the story of a young woman named Kate, described as a fun down to earth girl who was athletic and one of the guys until she broke a finger in High School. Unable to play sports anymore she became depressed and developed an eating disorder. As her depression and eating habits grew worse a friend recommended Kate try sushi. Hesitant at first Kate tried it and ended up loving it. Seemingly, more than the sushi, Kate enjoyed the attitude of the chefs who were comical and outgoing, reminding her of herself before getting sick.
As Kate continued visiting this sushi bar her overall health improved. As she pondered her future, she knew she wanted a career in which she could build friendships with customers, helping them to enjoy life. As if it was fate, Kate saw an ad for the California Sushi Academy. After a year of debating, she walked out on a leap of faith, leaving everything and everyone behind on a quest to be a sushi chef. The California Sushi Academy, California's first Sushi Academy, consisted of an extensive 12-week training program. Corson explains how this is different from Japan where sushi apprentices spend 5 years or more just learning to make the rice before being allowed to handle anything else.
The sushi-related history and culture lessons carefully woven into Kate's story were very interesting and informative. Corson brought his readers through sushi's humble beginnings in Japan to its worldwide fame today. Corson did a good job painting a picture allowing his readers to "see" exactly what he was talking about. Scenes displaying Japanese culture like the auctions at the Tsukiji fish market in Tokyo, the history of Japanese knives and even the use of Japanese terms throughout the book tied the culture in nicely.
The history of the food itself was also interesting. The precision put into preparing meals requires lots of practice. The process of making certain foods like miso and soy sauce were eye opening and the natural history of the different types of fish and how to catch/farm, cook, and/or present them was informative.
Some of the other facts mentioned by Carson that were particularly interesting is that the California Roll was invented due to a Californian sushi chef running out of fatty tuna; the term mack daddy was derived from mackerels, and that the organisms eaten by flamingos are responsible for their color. Overall, the book was interesting and educational. Carson's choice to focus on Kate, instead of others in the class, was smart because Kate being new to Sushi and Japanese culture, like many of his readers, was a nice relatable gateway to the "story of sushi".
The Story of Sushi is 388 pages long and currently available on Amazon in Kindle, Hardcover, Paperback, and Audible formats.
Trevor Corson also wrote The Secret Life of Lobsters: How Fishermen and Scientists Are Unraveling the Mysteries of Our Favorite Crustacean which is also available on Amazon in several formats.
Related 27Press Book:
12 Lessons On Sushi